Wurzburg
TIME : 2016/2/22 11:07:04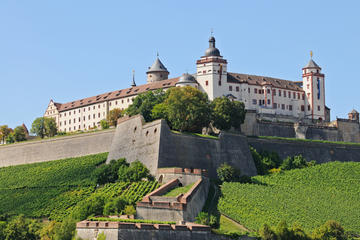 Wurzburg
The once-powerful Bishops of Würzburg, clearly not shy of worldly pleasures, endowed their city with one of the great Baroque palaces of Europe. Once past the imposing yet elegant exterior set in sweeping landscaped gardens, the great staircase rising from ethereal white to the celestial visions of Tiepolo's ceiling fresco (the largest in the world) is just the first of the decorative feats which await you.
Despite wartime damage, Würzburg's historic center lining the River Main also has its fair share of sights, mostly ecclesiastical. But bear in mind this is also a major wine center, so head for one of the authentic weinstuben where you can sample hearty local cuisine and fine Franconian vintages (word of advice: remember to refer to your hosts as Franconians, not Bavarians).
As you cross the old statue-lined bridge and look back at Würzburg's sharp spires, you may get a hint of Prague. Once on the other side, a quick climb takes you to the old fortress, Festung Marienberg, within whose walls nestles the red-and-white Marienkirche, Germany's oldest surviving church.
Practical Info
Würzburg, in north Bavaria, is the starting (or finishing) point of the Romantic Road and lies on the River Main equidistant between Frankfurt and Nuremberg.