Olympic Stadium
TIME : 2016/2/22 11:07:54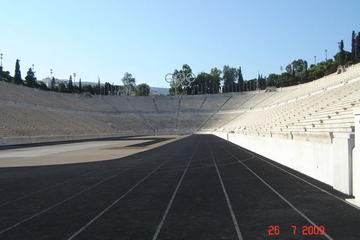 Olympic Stadium
Greece is where the Olympic Games began in the 11th century BC, as a festival dedicated to the god Zeus. The first modern Olympics was held in Athens in 1896 in the Panathinaiko Stadium, a 4th century BC stadium which was restored for the games. When Athens won the right to hold the 2004 games, people wondered if the chaotic and polluted city could make it work; they did. The result was a rebuilding program which re-invigorated the city and its transport system.
The Olympic Stadium of 2004 was originally built in the early 1980s for the European Olympic Championships and was remodeled by famous architect Santiago Calatrava for 2004. It seats around 70,000 and is now home to the major Athens football clubs and concerts. The stadium is called Spiros Louis Stadium after the winner of the 1896 marathon.
Practical Info
Bus X14 from Syntagma Square takes about half an hour to reach the stadium. The closest train station is Irini on metro line 1.
You Might Also Like