Irish Whiskey Museum
TIME : 2016/2/22 11:35:26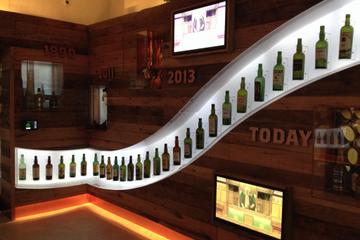 Irish Whiskey Museum
Just across from the main entrance to Dublin's Trinity College, the Irish Whiskey Museum offers fully-guided tours where you'll learn the history of the drink from its beginnings as an antidote to the woes of a poor and troubled nation through to the current revival in craft whiskies. Once you've had the full, interactive experience through the brand new museum, opened in 2014, it's tasting time.
With an expert to guide you through the differences in the top-rated whiskeys' flavors, you'll learn how to appreciate the subtle nuances of the drink. You get three whiskey tastings with a regular ticket, or if you upgrade to the VIP admission you'll get an extra tasting — of a matured whiskey no less — as well as a souvenir to take home with you. 
If whiskey's not for you, the Irish Whiskey Museum also has a cafe bar.
Practical Info
On 119 Grafton Street in the city center, the Irish Whiskey Museum offers fully-guided tours in English (other languages are available, but do ask ahead of time). Adult tickets cost €15, kids go for €7.50, and tours run every 20 to 30 minutes depending on the season.
You Might Also Like