Carrick-a-Rede Rope Bridge
TIME : 2016/2/22 11:35:54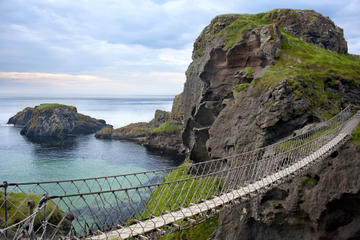 Carrick-a-Rede Rope Bridge
Considered one of the world's scariest bridges, the Carrick-a-Rede Rope Bridge is not for the faint of heart. Spanning a chasm that is almost 100 feet deep and nearly 70 feet wide, this Northern Ireland bridge connects Carrick-a-Rede Island to the mainland and attracts a quarter of a million visitors every year. The original structure was built by fishermen more than 300 years ago, and as recently as the 1970s, the bridge had only one handrail and large gaps between the slats.
The current bridge is less than 10 years old and is made of wire and Douglas fir. There is no record of anyone falling off the bridge, but it is not uncommon for visitors to get cold feet after crossing once, requiring a boat to bring them back to the mainland. Aside from the treacherous structure, the surrounding area is designated an Area of Special Scientific Interest due to its unique flora and fauna.
Practical Info
The Carrick-a-Rede Bridge is located between Ballintoy and Ballycastle in Antrim County. It is open all year round, from 10 a.m. to 5:15 p.m. (6:15 p.m. in the summer months). To cross, visitors must buy a ticket at the information booth on the way to the bridge; the cost is 5.60 pounds for adults. To get there, take Ulsterbus 252 or 256 from Belfast.