Leacanabuaile Fort
TIME : 2016/2/22 11:36:51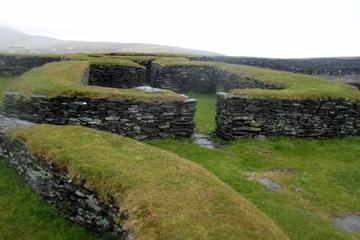 Leacanabuaile Fort
Leacanabuaile Fort, the smaller and older of two well-preserved stone ring forts located just outside Caherciveen, dates back to the ninth century. The circular fort has walls about 3 feet (1 meter) thick and 5 feet (1.5 meters) tall. Evidence of three stone beehive houses can still be scene within. Along with neighboring Cahergall Fort, Leacanabuaile is one of the best examples of a stone ring fort in Ireland.
When the fort was excavated in 1939, archeologists found items and tools made from iron, bronze, lead, bone and stone dating from the ninth and tenth centuries. The remains of a rotary quern used for grinding corn can still be seen in the fort.
Practical Info
Leacanabuaile Fort is located northwest of Caherciveen, not far from Ballycarbery Castle.
You Might Also Like