Wild Atlantic Way
TIME : 2016/2/22 11:37:05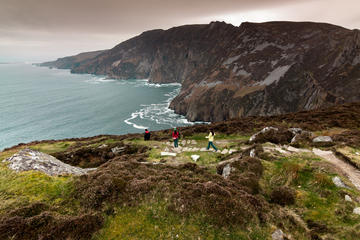 Wild Atlantic Way
Stretching from Cork to Donegal, the Wild Atlantic Way winds along the entire west coast of Ireland. The incredibly scenic route is the longest defined coastal touring track in the world. Along the way are several of Ireland's most scenic cities and towns, cultural icons, and hundreds of miles of rugged coastline. Cliffs, bays, beaches, and islands remain mostly untouched, while ancient villages and monuments tell stories of centuries of history. Castles and churches, traditional food and drink, and sights such as the Cliffs of Moher and the Ring of Kerry can all be found following the way.
All in all more than 150 designated stopping points allow visitors to experience both the known and lesser-known highlights of the path. Hiking, kayaking, bird and whale watching, and other outdoor activities are accessible throughout. With scenic coastal views throughout, the Wild Atlantic Way has become a favorite road trip recognized around the world.
Practical Info
The Wild Atlantic Way stretches from Donegal's Malin Head in the north to Cork's Mizen Head in the south. Broken down into four regions and 14 different routes, there is plenty to discover and customize based on your interests.
You Might Also Like