Cinque Terre
TIME : 2016/2/22 11:37:54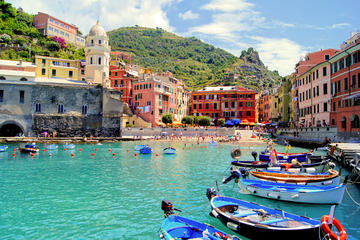 Cinque Terre
For travelers who consider themselves to be hiking specialists, a trip to Italy's Cinque Terre is well worth your time. 'Five Towns' in English, this region surrounding the compilation of quaint towns boasts a terrain that houses some of the best trails the world has ever seen. Complete with a breathtaking coastline, paths include olive groves, other plush greenery and easy access to either the water or the towns themselves.
Although the hikes themselves are considered fairly easy on the legs, some may find the often steep incline and climbing, particularly between Manarola and Corniglia, to be trying, so it is recommended that you be cautious about which paths to take. Also, a few of the towns, such as Monterosso, can accommodate visitors on a larger scale, with a wider selection of modern accommodations, many with coast-side views.
Practical Info
If walking is not the way to go for you, there are other ways to explore Cinque Terre, including a ferry that glides along the coastline, providing smooth and comfortable experience peering into its unforgettable natural beauty.
You Might Also Like