Messina
TIME : 2016/2/22 11:37:55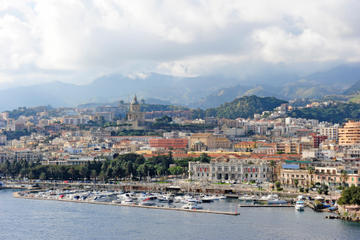 Messina
From the Italian mainland, you can see the city of Messina at the tip of Sicily's northeastern coast across the Strait of Messina. The city is Sicily's entry point for all ground transportation from the mainland, including buses and trains, and many people don't see more of the city than is necessary as they disembark from a ferry. Should you want to linger, however, there's enough to keep you interested for a short stay.
At one time, Messina only ranked behind Palermo in terms of power on the island. Catania has since surpassed Messina, but because of its status as the main gateway to Sicily, Messina remains an important Sicilian city. It was originally founded by the Greeks in the 8th century BCE, but Messina's main sites aren't quite as old. Major attractions include 13th century churches, a 16th century lighthouse, the Botanical Gardens at the University of Messina, and an art museum with a Caravaggio painting.
Since Messina is such a popular transportation hub, it's quite easy to reach the city. Ferries cross the Strait of Messina on a regular basis, carrying not just foot passengers, cars and coaches, but also trains. There are special ferries with train tracks embedded in the floor of the lowest deck, allowing trains to roll right onto the ferry and then off again on the other side. That said, loading and unloading the trains from the ferries takes far longer than crossing the Strait itself.
Getting to other Sicilian destinations from Messina is relatively easy, too, depending on where you're going. If your itinerary is essentially sticking to the big cities and towns, you can probably get away with relying on trains and buses to get around. If you'd like more flexibility and, above all, if you want to explore further afield, you should look into renting a car when you arrive in Messina.
You Might Also Like