Catania
TIME : 2-22 11:37:57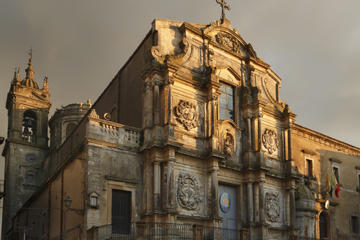 Catania
The Sicilian port city of Catania is both a great home base for exploring the island, and a good stop for a day trip. Located on the eastern coast of Sicily, the city sits at the base of Mt. Etna, Europe's tallest active volcano. It also boasts both Ancient Greek and Ancient Roman ruins, in addition to more modern sights from the 11th century!
Throughout history, the island of Sicily was regularly raided and conquered, which means there's an incredible variety of cultures that influenced cities like Catania. Additionally, this city was a thriving commercial port, even two thousand years ago. Given this historic significance and the number of historic attractions, the city center is a UNESCO World Heritage Site.
In addition to the historic sites in central Catania, other things that will likely be high on your to-do list are visiting Mt. Etna and exploring other cities in the Val di Noto. You can go on a hiking tour of Mt. Etna (it's unwise to do this without a guide) and explore nearby cities like Noto and Ragusa which offer similar architectural beauty to Catania. Eight towns in the Val di Noto constitute, collectively, a UNESCO World Heritage site, owing to their spectacular examples of Baroque art and architecture.
To reach Catania, you can fly directly to the city's airport (one of Sicily's main airports), or take a train, bus or car from the Italian mainland. All of these will need to cross the water and there are also ferries that make longer trips to Catania from places like Naples or Civitavecchia (Rome's cruise port).