Duomo (Cathedral of Santa Maria dei Fiori)
TIME : 2-22 11:38:12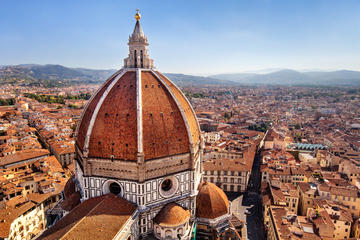 Duomo (Cathedral of Santa Maria dei Fiori)
You'll catch glimpses of the red-tiled dome of the Duomo, or Cathedral of Santa Maria dei Fiori, peeping over the rooftops as soon as you arrive in Florence, but your first face-to-face encounter with its pink and green marble glory is hard to forget.
The 13th-century Sienese architect Arnolfo di Cambio was responsible for building many landmarks in Florence, but this is undoubtedly his showstopper, taking 170 years to complete. The beautiful ribbed dome was creatively added by Brunelleschi in the 1420s, and the facade was remodeled to reflect Cambio's design in the 19th century.
Inside the Duomo, your eyes are inevitably drawn upwards to the soaring painted dome and lovely stained-glass windows by such masters as Donatello. Visit the crypt, where Brunelleschi's tomb lies, or head to the top of the enormous dome itself for stupendous views over Florence. In addition, the cathedral houses the Great Museum of the Duomo, a collection of monuments including Brunelleschi's Dome and the crypt of Santa Reparata, the Baptistry of San Giovanni, Giotto's bell tower and the Historical Museum.
Practical Info
The Duomo is in the heart of central Florence, a short walk east from the train station. While the cathedral is free to visit, access to the dome costs €8.
You Might Also Like