Fontana di Piazza delle Erbe
TIME : 2016/2/22 11:38:40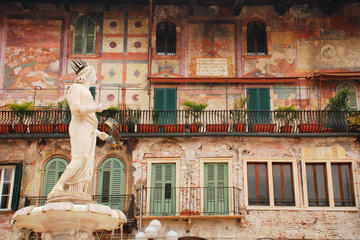 Fontana di Piazza delle Erbe
Verona's Piazza delle Erbe was once a Roman marketplace and continues its trading function with stalls of fruit, vegetables and herbs (hence the name), tourist souvenirs and lots of cafes.
In the middle of all this hustle is Verona's oldest and best known fountain, Fontana di Madonna Verona. A female figure dating from Roman times rises from the water, holding a scroll bearing the crest of the city of Verona. The base on which she stands has eight masks from which the water flows.
This design dates from 1368 when Casignorio della Scala, then Lord of Verona and one of the powerful Scaligeri family, wanted to celebrate the repair of the city's aqueducts.
You Might Also Like