Aeolian Islands
TIME : 2016/2/22 11:43:04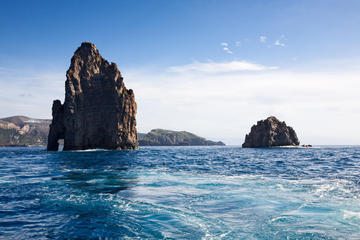 Aeolian Islands
The Aeolian Islands are a collection of eight islands off the northeastern coast of Sicily. The archipelago takes its name from the Greek god of wind, Aeolus, and the islands themselves are the result of volcanic activity hundreds of thousands of years ago.
The largest of the Aeolian Islands - collectively, a UNESCO World Heritage Site - is Lipari, which is also the name of the main town on the island. There's a year-round population on Lipari of more than 10,000. The next-largest is Salina, with three distinct towns, followed by Vulcano, with a population of less than 500 people. Many of the islands have active volcanoes on them, or, in some cases, are made up almost entirely of a volcano. Stromboli, for instance, is a conical island that consists almost completely of Mt. Stromboli, a still-active volcano.
The Aeolian Islands are incredibly popular during the summer months, when their beaches draw sun worshippers from Italy and elsewhere in Europe. You can visit many of the islands, but only the larger ones with permanent towns are good for overnight stays. The smaller islands sometimes don't even have roads, let alone buses! In addition to the appeal of the great beaches, the volcanic activity also means that there are mud baths many visitors like to soak in. You can also hike up the volcanoes, if you've got a good guide.
In order to reach any of them, you need to take a boat. Lipari, the largest island, is also a transportation hub to the other islands, so you can start a tour of the Aeolians from Lipari. There are ferries that will transport your car, if you've got a rental car on Sicily, so you can better explore - which is a great option if you're planning to stay for a few days. With just a day to explore, you can easily sign up for a day trip from Sicily.