Buontalenti Grotto
TIME : 2016/2/22 11:44:22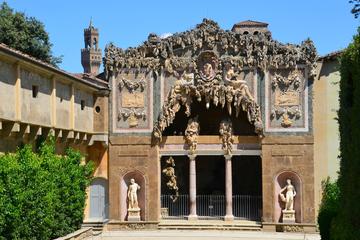 Buontalenti Grotto
Built in the 16th century in Florence's Boboli Gardens, Buontalenti Grotto is the largest grotto in the city. Named after the architect who oversaw its construction in the late 16th century, it was commissioned by Grand Duke of Tuscany and has since featured Dan Brown's bestselling novel, "Inferno."
A curious-looking place indeed, on both the outside and inside the grotto's covered in man-made stalagmites and mythical mosaic creatures including sea goats. Buontalenti Grotto is divided into three rooms with the first, and biggest, styled in the most natural way as a cave full of stalactites and stalagmites. There are also a few anthropomorphic creatures created out of stones and shells thrown in there for good measure.
The next room is similarly decorated to the first, and includes frescoes depicting Minerva and Giunone. The third room is also known for its impressive frescoes, but here you'll also see a green marble fountain and a ceiling painted to resemble a sky full of birds.
Practical Info
The Boboli Gardens are behind the Pitti Palace and are open to the public. Entry costs €7 and it's open from 8:15 am to 4:30 pm from November to February, until 6;30pm from April to May and September to October, and until 7:30pm in the summer months. Last entrance is 1 hour before closing time.