Capitoline Hill & Museums Tours
TIME : 2016/2/22 11:44:28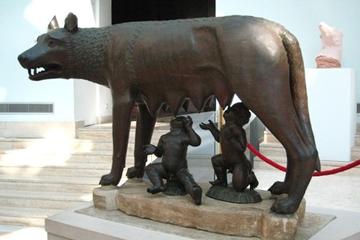 Capitoline Hill & Museums Tours
Located in the elegant Piazza della Campidoglio (designed by Michelangelo) on top of Capitoline Hill, the Capitoline Museums house a world-class collection of art and archeology.

Established in 1471 when Pope Sixtus IV donated a collection of bronze statues to the people of Rome, the museum did not officially open to the public until 1734. By then a number of Popes had donated more art and historic treasures to the collection and it was becoming significant, spreading throughout the buildings surrounding the piazza.

Over the years, these buildings have proved unsuitable or damp and the museum's spaces have been renovated, restructured and expanded. The Roman Garden space has now been enclosed with a large glass roof to create yet another exhibition space.
The collection of the museums includes important bronze sculptures, a collection of paintings and statues declared 'pagan' by Pope Pius V and moved out of the Vatican, porcelain, coins and medals and archeological materials unearthed in Rome during its expansion after becoming capital of the newly unified Italy in 1870.
Practical Info
The Capitoline Museums can be reached by metro (line B, Colosseo stop). Many bus routes also pass nearby.
You Might Also Like