Cloister of San Francesco (Chiostro di San Francesco)
TIME : 2016/2/22 11:44:55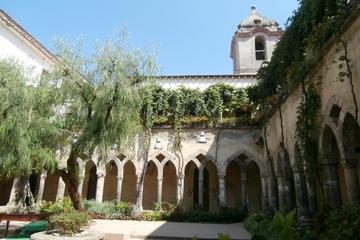 Cloister of San Francesco (Chiostro di San Francesco)
Sorrento's Cloister of San Francesco is an oasis of tranquility steps away from the historic town's bustling central piazza of Sant'Antonino. The cloister unites a religious complex of seventh-century monastery and a late-medieval church, both dedicated to St Francis of Assisi, and is a showpiece of various architectural styles from pre-Roman through Arabic to medieval.
In the 14th century Franciscan friars from the monastery repurposed an ancient oratory into their church; it has some Baroque features and its simple white façade was rebuilt in 1926. Inside there are several richly decorated chapels adjoining the single nave and in 1992, a bronze statue of St Francis was placed outside the church; it is the work of Roman sculptor Alfiero Nena.
But the cloister, built at the same time as the church, is the star turn here; its tranquil gardens are filled with bougainvillea and vines that climb over arched arcades, which are made of soft tufa stone and rubble pinched from earlier pagan temples. During the summer there are art exhibitions and concerts set to the stunning backdrop of the cloister and it is also one of Sorrento's most popular venues for weddings.
Always dress conservatively when visiting churches in Italy; shoulder and legs should be covered.
Practical Info
Piazza Francesco Saverio Gargiulo. Opening hours are 9am to 6pm and admission is free. The church and cloister re within walking distance of Sorrento's charismatic, chaotic center.
You Might Also Like