Opera Metropolitana Museum (Museo dell'Opera Metropolitana)
TIME : 2016/2/22 11:46:04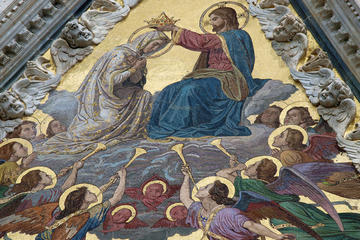 Opera Metropolitana Museum (Museo dell'Opera Metropolitana)
Also known as the Duomo Museum, the building was intended to be part of the Nuovo Duomo, the expansion of Siena's cathedral to become the largest in Italy in the 14th century. However, the plague of 1348 put a stop to such grand plans and now what was once a nave is a museum housing important art works from the cathedral.
On the ground level are sculptures including the 13th century statues by Giovanni Pisano that once adorned the front of the Duomo. Upstairs is an early 14th century masterpiece by Duccio di Buoninsegna, the Maesta (Virgin Mary in Majesty). It's a double sided screen which was once on the high altar in the next-door cathedral. Other important paintings of the Senese school are here including Lorenzetti's Birth of the Virgin which broke with tradition and could have signaled a new genius if he hadn't died of the plague.
If you're brave, head up the narrow winding stairs (past the reliquary containing the head of St Galgano) to the top of the facade of the Nuovo Duomo for an incredible view over Siena.
You Might Also Like