Syracuse Duomo
TIME : 2016/2/22 11:47:42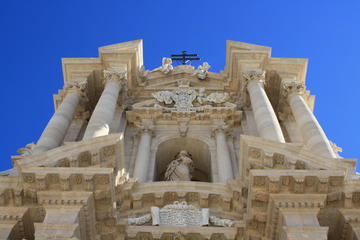 Syracuse Duomo
The Syracuse Duomo today looks as much like a Catholic church from the front as you'd expect, with its ornate 18th-century facade and beautiful Sicilian Baroque style. Step inside, however, and you can see that this was not always a Catholic church.
This building began life as a 5th-century BCE Greek temple to the goddess Athena. It was later adapted to a Christian church, with the Doric columns incorporated into the new space, as they were still visible in the walls and can also be seen on the outside. There is still an ancient Greek marble pot inside the church that now serves as a baptismal font. There are elements of the 11th and 12th centuries inside the church, too, from the roof to the mosaics.
Practical Info
Syracuse's cathedral is open daily from 8am to noon and again from 4 to 7pm. Admission is free, although donations are welcome.
You Might Also Like