Town Hall Square
TIME : 2016/2/22 11:54:43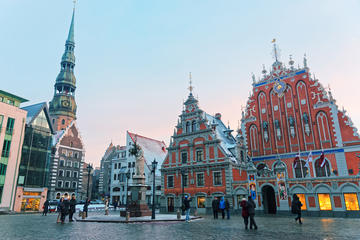 Town Hall Square
Riga's Town Hall Square has long been the economic and administrative center of the city. While much of the medieval square was destroyed during World War II, it has been rebuilt. Standing on the square are buildings such as the House of the Blackheads, the tourist information center, the Latvian Occupation Museum and, of course, Riga's town hall with its baroque clock tower.
More than 500 years ago, the first city Christmas tree was lit in the square. A memorial plank can now be found on the spot where the tree was list and a new tree is decorated each year. Also of note is the famous Roland Statue, which stands in the middle of Town Hall Square. The nephew of Charlemagne and a Frankish military leader, Roland was known to be a fair judge and thus, he gradually became a symbol of justice in northern Germany and Latvia. His statue was erected on the square in 1896.
Practical Info
The Town Hall Square is one of the best known squares in Riga's Old City and is easily accessible on foot from any hotels in or near the Old City.
You Might Also Like