Riga Castle
TIME : 2016/2/22 11:54:49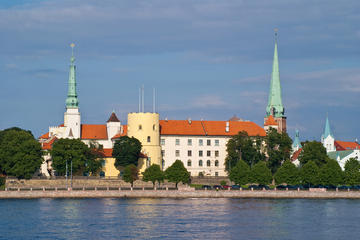 Riga Castle
Standing on the banks of the Daugava River, Riga Castle was first built in the early 14th century as a three story building enclosing a rectangular courtyard, with four rectangular towers on its corners. It was reconstructed at the end of the 15th century with two round towers and then spent most of the 17th century under constant construction. At various points in its 700-year history, the castle has been under Polish, Swedish and Soviet control.
More recently, the castle has served as the official residence of the President of Latvia and home to the Latvian Art Museum and the National History Museum of Latvia, the third oldest museum in the country. During renovations in 2013, a massive fire broke out at the castle, destroying 3,200 square meters of the building, but luckily leaving the museum collections relatively unscathed. As a result, the president's residence has moved temporarily to the House of the Blackheads while damage from the fire is repaired.
Practical Info
Riga Castle is located in the center of Riga near the old city, within easy walking distance from many tourist hotels. It is currently closed for renovations until 2016.
You Might Also Like