Swedish Gate (Zviedru Varti)
TIME : 2016/2/22 11:54:52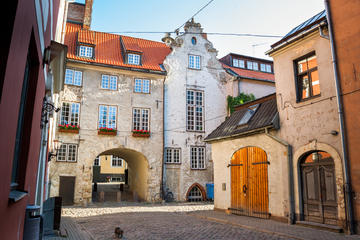 Swedish Gate (Zviedru Varti)
The best known Swedish monument in Riga, the Swedish Gate (or Zviedru Varti) was built in 1698 after the conclusion of the Polish-Swedish War, when the Swedish Kingdom took over the city. Designed to provide access to the barracks outside of the city walls, it is set in the largest remaining section of the old city's fortifications. According to one legend, the apartment above the gate belonged to the city executioner, who would place a red rose on the window ledge the morning before an execution, while according to another, a rich merchant cut the gate out of an existing house because he didn't want to pay taxes each time he brought goods into the city.
Restored during Soviet times, the gate today leads to Trokšnu iela, the Old City's narrowest and quaintest street. It is also popular among tourists as a backdrop for photographs.
Practical Info
The Swedish Gate is located at the corner of Tornja and Aldaru streets in Riga's old city.
You Might Also Like