Markthal Rotterdam
TIME : 2016/2/22 12:08:25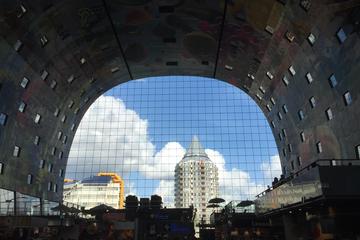 Markthal Rotterdam
Rotterdam's brand new market hall is more than just a place to shop for produce and grab a bite; it's an attraction in its own right. It features over 100 food stalls, eight restaurants and 15 shops, all located underneath an imposing horseshoe-shaped structure with glass facades consisting of 4,000 small windows hanged by steel cables – it is, in fact, the largest glass-window cable structure in Europe, and as such, is considered an architectural masterpiece by many experts. 
Additionally, the inside of the market is covered by more than 4,000 colorful tiles that give the horseshoe-shaped arch a boost of color, making it the largest artwork in the Netherlands. A 10th-century farm was uncovered seven meters underground during construction of the market, and several foundations and artifacts are now on exhibit throughout the market hall in homage to Rotterdam's agricultural past.
Practical Info
Markthal is located on Verlengde Nieuwstraat in Rotterdam. It is easily accessible on foot from all over central Rotterdam, or by public transit at stop Blaak (by tram via lines 21 and 24, by train, or by metro via lines A, B, or C.). It can also be reached by car or bike, as there is a four-story parking garage underneath the market hall. Markthal is open every day of the week; from 10 a.m. to 8 p.m. between Mondays and Thursdays as well as Saturdays, from 10 a.m. to 9 p.m. on Fridays, and from noon to 6 p.m. on Sundays. The market is free to enter.
You Might Also Like