Wadowice
TIME : 2016/2/22 13:47:24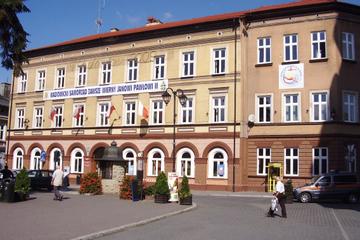 Wadowice
A small town in southern Poland, Wadowice is best known as the birthplace of Pope John Paul II. The town has been the site of ermanent settlement since the 10th or 11th century and was once a regional center of crafts and trade. Today its primary industry is tourism, attracting 200,000 visitors each year. The primary attractions are the Museum of John Paul II, set in the home where he lived between 1920 and 1938, and the nearby Church of the Presentation of the Blessed Virgin May, which is where the Pope was baptized, confirmed and served as an altar boy. Stop at the tourism office to pick up a booklet outlining a trail of 11 sights related to Pope John Paul II.
Also worth seeing are the 19th-century houses surrounding Pope John Paul II Square, the Municipal Museum of Marcin Wadowita and the monument to writer Emil Zegadlowicz, who often wrote about Wadowice. Don't leave without trying kremowka, the town's famous pastry made of cream, eggs, sugar and brandy.
Practical Info
Wadowice is located about 30 miles southwest of Krakow. Trains from Krakow are infrequent and slow, so a bus or mini-bus is a better option. Mini-buses leave from a parking lot across from the Galeria Krakowska mall, and buses leave from a station on the other side of the mall. The Museum of John Paul II is generally open daily from 9 a.m. to 7 p.m., with tours conducted in groups of up to 25 people.
You Might Also Like