Victoriei Street
TIME : 2016/2/22 13:53:32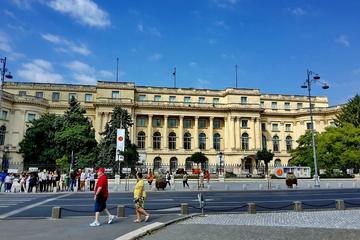 Victoriei Street
Running for almost 3km through the heart of central Bucharest, Victoriei Street (Calea Victoriei, or 'Victory' street) is the capital's main thoroughfare and the obvious starting point for a walking tour. First laid out in the 16th century, the historic boulevard is one of the oldest in the city, and it's lined with architectural landmarks, palaces, museums and upmarket hotels.
Start from the commercial hub of Piata Victoriei, with its modern office towers, and head south down Victoriei Street, passing notable buildings like the Cantacuzino Palace, home to the George Enescu National Museum; the Athenaeum concert hall; the CEC Palace and the Palace of the National Military Circle. Be sure to stop by the famous Revolution Square, hemmed in by impressive monuments, and the National History Museum, before arriving banks of the Dambovita River. As well as being a prime spot for photographers, the street is crammed with shops, restaurants and cafés, offering ample opportunities for a sightseeing break.
Alternatively, north of Piata Victoriei, Victoriei Street becomes Șoseaua Kiseleff and leads the way through Kiseleff Park to the Arcul de Triumf and the enormous Herăstrău Park (around 2 km from Piata Victoriei).
Practical Info
Victoriei Street is Bucharest's central boulevard and runs for almost 3 km from Splaiul Independenței on the banks of the Dâmbovița River to Piața Victoriei.