Sandunovsky Baths (Sanduný Banya)
TIME : 2016/2/22 13:53:48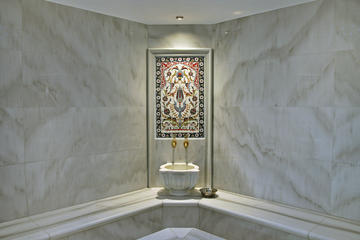 Sandunovsky Baths (Sanduný Banya)
No visitor to Russia should leave without experiencing a traditional Russian bathhouse, and the Sandunovsky Baths may be the best place to do so. Founded in 1808, this bathhouse is the largest and most impressive in Moscow, with high ceilings, marble staircases and gold frescoes throughout the interior. It also features a beauty salon, restaurant and laundry service. Called the "czar of bathhouses," the Sandunovsky Baths are frequented not just by tourists but by Russian businessmen and socialites alike.
To follow the traditional Russian routine, head to the steam room for about 10 minutes, then jump into a pool of cold water and then do it all over again. Take a break in between to have a snack, enjoy a beer or sip a cup of tea. You might also get "beaten" with birch twigs while in the steam room—another longstanding Russian tradition. The women's side of the baths today feels more like a modern salon, with other typical spa treatments also available.
Practical Info
Located at Neglinaya Ulitsa 14, the Baths are accessible from the Kuznetsky Most metro station.  They are open daily from 8 a.m. to 11 p.m., except for Tuesdays, and are separated into men's and women's sections. There is a charge for admission, plus additional costs for specific treatments or experiences and to rent bath towels and slippers.