Pushkin Museum
TIME : 2016/2/22 13:54:02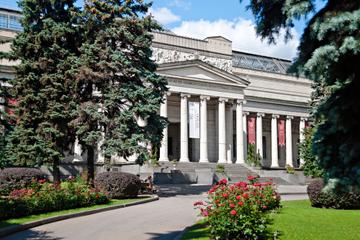 Pushkin Museum
The Pushkin Museum of Fine Arts is the largest European art museum in Moscow, with over 560,000 works of art. Opened in 1912, it actually has no connection to Alexander Pushkin, the famous Russian poet – it was simply renamed in his honor in 1937 to mark the centenary of his death.
The museum includes an impressive collection of Dutch and Flemish masterpieces from the 17th century, including several works by Rembrandt, as well as Impressionist and Post-Impressionist works by painters such as Van Gogh, Matisse, Gauguin and Picasso. The latter are now housed in a new Gallery of European & American Art of the 19th and 20th centuries next door to the main museum building. Many of the museum's paintings were obtained in the 1920s and 1930s when private estates were nationalized; other works were taken from the History Museum, the Kremlin Museum, the Hermitage and other museums in St Petersburg.
The Pushkin Museum is also home to an Ancient Civilizations exhibit featuring ancient Egyptian artifacts and a Treasures of Troy collection that includes pieces dating back to 2500 BC.
Practical Info
The Pushkin Museum is located at 14 Volkhonka street, across the street from the Cathedral of Christ the Saviour. The nearest Metro station is Kropotkinskaya. Audioguides are available.