Peter and Paul Cathedral
TIME : 2016/2/22 13:54:03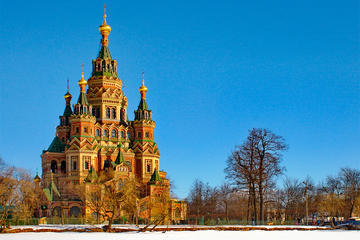 Peter and Paul Cathedral
The Peter and Paul Cathedral is an orthodox cathedral and burial place of Russian emperors dating as far back as Peter the Great.

As the oldest cathedral in St. Petersberg, it is considered one the tallest orthodox cathedrals in the world and also one of the most remarkable achievements of the baroque era, with a rectangular base, and containing an enormous bell-tower and landmark needle, all resembling western European architecture.

The bell-tower is the tallest in the world and contains a carillon composed of 51 bells totaling a weight of 33,422 pounds (15,160 kg) and ranges in such of variety of notes that it is not outside of the range of any piece of music.

Atop the cathedral also is one of St. Petersburg's most important symbols, its golden spire, sitting 404 feet (123 m) above ground level.


You Might Also Like