Trinity Lavra of St Sergius
TIME : 2016/2/22 13:54:11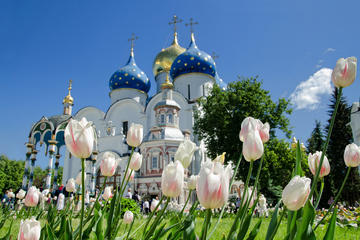 Trinity Lavra of St Sergius
Located in the town of Sergiev Posad, the Trinity Lavra of St Sergius is the most important monastery in Russia and the spiritual center of the Russian Orthodox Church. Founded in 1345, the monastery originally centered on a wooden church surrounded by several buildings and became the model for more than 400 similar cloisters throughout Russia. After the first church burned down, a stone cathedral was built, dedicated to the Holy Trinity.
It still stands today, housing relics of St Sergius and works by some of the greatest iconic painters in Russia. Over the centuries, additional buildings were added to the monastery complex, including the Church of the Holy Spirit, the Assumption Cathedral, the Church of John the Baptist's Nativity, a royal palace and a patriarch's palace. Once the richest monastery in Russia, it was closed after the Russian Revolution and many relics were lost or destroyed. It was returned to the Russian Orthodox Church in 1945 and was restored throughout the 1960s and 1970s. The monastery was named a UNESCO World Heritage site in 1993.
Practical Info
To visit, take a train from Moscow's Yaroslavsky train station to Sergiev Posad. Trains leave every 30 minutes throughout the day and the journey takes about an hour and a half. From the train station in Sergiev Posad, the monastery is about a 10-minute walk away. The grounds are open daily from 8 a.m. to 6 p.m., but the churches are not open to the public on the weekends. The museum is closed on Mondays.
You Might Also Like