Christ the Savior Cathedral
TIME : 2016/2/22 13:54:19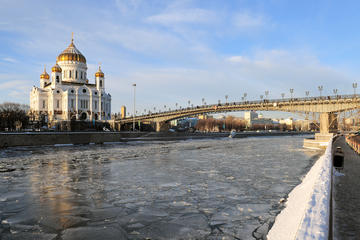 Christ the Savior Cathedral
The Christ the Savior Cathedral was originally commissioned by Tsar Alexander I after Russia's defeat of Napoleon, but work did not begin on it until 1839. Designed by a famed St Petersburg architect, it was modeled on the Hagia Sophia in Istanbul.
The cathedral was eventually consecrated in 1883, but its tenure was short-lived as the Soviets destroyed it in 1931 to make way for what would have been a Grand Palace of Soviets. However, the palace was never built and instead a swimming pool stood in its place for several decades. In the mid-1990s, Moscow's mayor joined with the Russian Orthodox Church to rebuild the cathedral and construction began in 1994.
With donations from more than a million Moscow residents, the new church followed the original design, but with modern day improvements. At 103 meters tall, it is the tallest Orthodox church in the world and can accommodate nearly 10,000 church-goers. A highlight for visitors is undoubtedly the panoramic view from a 40-meter-high observation platform inside the bell tower.
Practical Info
The Christ the Savior Cathedral is located at Volkhonka ulitsa 15, on the north bank of the Moscow River and just a short walk from the Kropotkinskaya Metro station. It is open from 1 to 5 p.m. on Monday and from 10 a.m. to 5 p.m. Tuesday through Sunday.