Diamond Fund (Almazny Fond)
TIME : 2016/2/22 13:54:21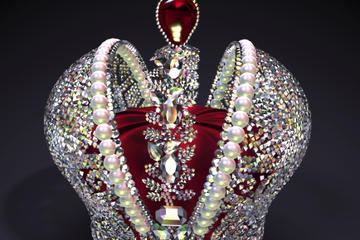 Diamond Fund (Almazny Fond)
A highlight of a visit to the Kremlin, the Diamond Fund shows off the most ostentatious of the Russian imperial jewels. Originally housed in a small room in the Winter Palace in St Petersburg, the collection of jewels begun by Peter the Great grew quickly, especially after a large contribution by Peter's granddaughter, Empress Elizabeth I. The collection moved to Moscow in 1914 to protect it from the Germans and was kept in a vault underneath the Kremlin. 
When it was reopened in 1926, two-thirds of the collection were auctioned off (contrary to Peter's instructions) to support the government. What remained was put on display for high ranking officials and dignitaries in 1967 and was only opened to public after the fall of the Soviet Union.
The impressive collection features Catherine the Great's coronation crown from 1762, the world's largest sapphire, the famous 190-karat Orlov Diamond, one of the world's largest gold nuggets weighing 3.6 kilograms and numerous Faberge eggs.
Practical Info
The Diamond Fund is located in the Armoury Fund inside the Kremlin and is accessible from the Borovitskaya or Alexandrovsky Sad metro stations. Admission is separate from the Kremlin and Armoury Fund and costs 500 rubles for adults. While other Kremlin tickets are sold near Kutafiya Tower, tickets to the Diamond Fund must be purchased in the foyer of the Armoury Fund. Visitors must join an excursion, which leave at 20 minute intervals between 10 a.m. and 1 p.m. and between 2 and 5 p.m. The Diamond Fund is open daily, except for Thursdays.