Neva River
TIME : 2016/2/22 13:54:28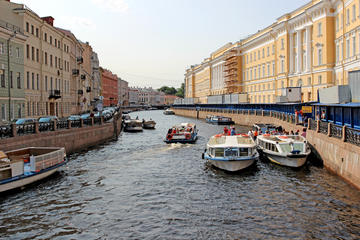 Neva River
Long upheld as the lifeline of the city, the Neva River runs straight through the heart of St Petersburg, with its many tributaries and canal ways crisscrossing the city center. For visitors to St. Petersburg, following the path of the Neva River makes a popular route for walking tours and sightseeing cruises, with many of the city's top attractions lining its banks. The grand façades of the Anichkov Palace, the Winter Palace and the Mariinsky Theatre, the Classicist buildings of New Holland Island, the historic Peter and Paul Fortress and the lush Summer Gardens all face onto the waterfront, punctuated by iconic drawbridges like the Peter the Great Bridge and the Palace Bridge.
The most romantic time to stroll along the Neva River is in late June or early July during the city's famous 'White Nights', a phenomenon caused by the city's high latitude where the sun never sets, while throughout the winter months the frozen river offers an atmospheric backdrop to St. Petersburg's festive celebrations. 
Practical Info
The Neva River runs just over 46 miles between Lake Ladoga and the Gulf of Finland in Western Russia. Sightseeing cruises along the Neva River are possible from central St. Petersburg during the spring and summer months.