Revolution Square (Ploshchad Revolyutsii)
TIME : 2016/2/22 13:54:32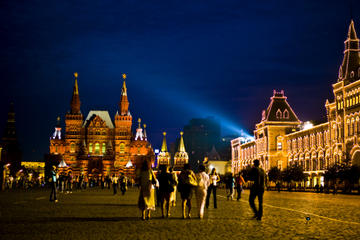 Revolution Square (Ploshchad Revolyutsii)
The vast, open spaces of Revolution Square lie just north of Moscow's fabled Red Square in the Tverskoy District and the two are connected by the twin spires of the Resurrection Gate, which was first built in 1535 and restored in 1945 after the end of World War II. Revolution Square is so-named thanks to its role as a gathering place during Russia's socialist revolution in 1917 and in recent times has once more been the hub of dissension under the rule of Putin; however visitors are more likely to find it full of market stalls selling souvenirs than protesting crowds.
In a pedestrianized public square surrounded with monumental pre-war architecture, the standout building is the vast, red-brick edifice of Moscow City Hall. Built in Russian Revivalist style in 1890, this was originally home of the ruling Duma, which was disbanded after the Revolution in 1917. Post-WWII, it became the Lenin Museum but now its lavish apartments host an exhibition dedicated to Napoleon.
Other fine constructions around Revolution Square include themajestic façade of the Hotel Metropol, completed in 1907 and one of the finest Art Deco buildings in the city. Ploshchad Revolyutsii metro station is the most elegant metro station in Moscow, liberally adorned with colonnades and bronze sculptures by Matvey Manizer.
Practical Info
Three metro stations serve Revolution Square: Teatralnaya, Okhotny Ryad and Ploshchad Revolyutsii. It adjoins Red Square, the beating heart of the city.
You Might Also Like