Senate Square (Ploschad Dekabristov)
TIME : 2016/2/22 13:54:33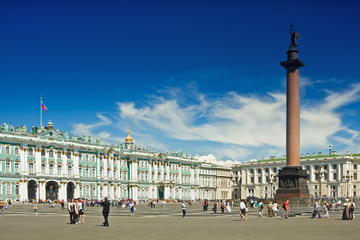 Senate Square (Ploschad Dekabristov)
Originally named the Decembrists' Square, after the December 1825 uprising, Senate Square (Ploschad Dekabristov) is one of St. Petersburg's most famous public squares, encircled by some of the city's top attractions.  Linked to the central hub of Palace Square by the 407 meter-long Admiralty building – the one-time Russian Naval Headquarters – Senate Square is also home to the grand Senate Building and the early 19th-century Cavalry Manege, now home to the Central Exhibition Hall, and backs onto the grounds of the gold-domed St Isaac's Cathedral.
The unforgettable centerpiece of Senate Square is its Bronze Horseman statue, one of the most iconic symbols of St. Petersburg. Commissioned by Catherine the Great in 1778, the statue is the work of French sculptor Étienne Maurice Falconet and depicts a horseback Peter the Great atop the "Thunder Stone," an enormous cliff-like pedestal fashioned from a single piece of red granite and weighing in at around 1,500 tons.
Practical Info
Senate Square is one of the main public squares in downtown St. Petersburg, located on the banks of the Neva River and connected to the nearby Palace Square by the Admiralty building.
You Might Also Like