Suzdal
TIME : 2016/2/22 13:54:36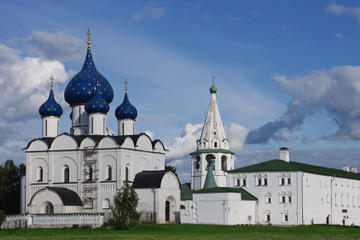 Suzdal
Suzdal is one of the highlights of the so-called Golden Ring around Moscow and makes for a long but viable day trip. The Suzdal Kremlin was founded in the 11th century and today includes the Nativity of the Virgin Cathedral, a 13th-century cathedral notable for its blue and gold domes.
Not far from the Kremlin is the Museum of Wooden Architecture and Peasant Life, an interesting stop to get a feel for traditional Russian culture and the life of Russian peasants.
Walking around Suzdal, you will see no shortage of churches, with many dating back centuries, including the Cathedral of Intercession, built in 1518, and the St John the Baptist Church, built in 1720. Climb the tower of the Resurrection Church near Torgovaya Ploshchad for panoramic views of the entire area.
Practical Info
Suzdal is best visited as an overnight trip from Moscow, but if you are short on time you can do it as a long day trip. If you don't join an organized tour, the best way to reach the town is to take a train from Moscow to nearby Vladimir and then take a bus from there. Trains to Vladimir leave from Moscow's Kurskaya train station and take about three hours. The bus station is adjacent to the train station in Vladimir and buses leave for Suzdal every 30 minutes, taking one hour to make the journey. Once you are in Suzdal, most attractions are walkable.