Tretyakov Gallery
TIME : 2016/2/22 13:54:38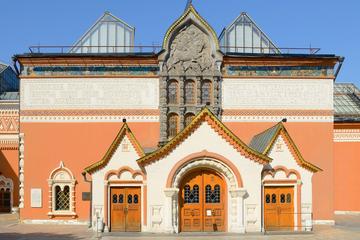 Tretyakov Gallery
The Tretyakov Gallery in Moscow is known as the finest collection of Russian art in the world and is a must-see for any visitor to the city. Its history dates back to 1856, when a Moscow merchant, Pavel Mikhailovich Tretyakov, began collecting pieces from Russian artists with the hope of one day establishing a museum of national art. In 1892, he donated his collection, consisting of around 2,000 pieces, to the city of Moscow. The current gallery building opened a few years later and today it holds more than 170,000 works of art displayed throughout 62 rooms.
The gallery expertly traces the development of Russian painting from the 10th century through the end of the 19th century and features some of the most notable Russian artists, although many may be unknown outside of Russia. It also showcases the world's best collection of Russian icons and a collection of portraits of great Russian figures such as Dostoyevsky, Tolstoy and Turgenev.
Visitors will appreciate cards throughout the gallery providing background information in English on many of the artists whose work is on display.
Practical Info
The Tretyakov Gallery is located at 10 Lavrushinsky lane and is accessible from the Tretyakovskaya, Novokuznetskaya or Polyanka Metro stations. The ticket office closes at 6:30pm. Audio-guides are available for 360 rubles. A photography permit costs an additional 200 rubles.
You Might Also Like