PortAventura Park
TIME : 2016/2/22 14:04:27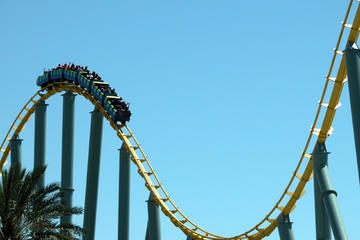 PortAventura Park
Situated in the coastal city of Salou, PortAventura Park is Barcelona's go-to amusement park, and in fact one of the largest in Europe. Think big-kid roller coasters, children-friendly rides, and loads of adventure for folks of any age—all just minutes away from the shores of the Costa Dorada.
PortAventura is composed of six different themed lands, five of which transport visitors on an amusement-park-style excursion to historic civilizations. Among the most popular of these recreated destinations is Far West Land, the park's largest area and home to the most rides. Then, there's the China-themed land, where you'll encounter some of PortAventura's especially tummy-turning rides, including the Dragon Khan, with its once-record breaking eight inversions, and Shambhala, Europe's fastest and tallest (76 meters!) roller coaster. 
There's more fun to be had in Polynesia Land, as well as Mayan-inspired Mexico. And if you and the family are hungry, then you'll want to set your sights and appetites on particularly restaurant-rich Mediterrania. Meanwhile, the different lands aren't limited to these aforementioned exotic places: there's also SésamoAventura, a Sesame Street-themed park filled with rides suitable for smaller children.
PortAventura isn't the only playful destination in these parts either. There's also neighboring Costa Caribe Aquatic Park, which boasts Europe's tallest free-fall waterslide, as well as Lumine Golf Club, with its three separate courses. And given PortAventura's convenient coastal location, you can even be at the beach in minutes.
Practical Info
PortAventura is located just over an hour south of Barcelona. You can get there by taking the Renfe train to the PortAventura stop, or simply by joining an organized day-trip excursion from Barcelona. 
You Might Also Like