Santa Caterina Market
TIME : 2016/2/22 14:05:48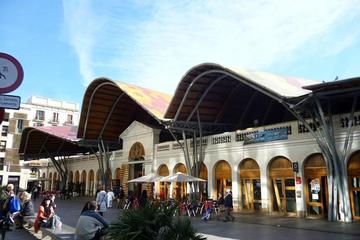 Santa Caterina Market
Santa Caterina was the first covered market in the city of Barcelona. Since being completely renovated in 2005 with a modern design and colorful, curved rooftop, it has become a celebrated sight in Barcelona. Yet, it stays true to its traditional Catalan market roots. Over 325,000 ceramic pieces were used by architects Benedetta Tagliabue and Enric Miralles to create the kaleidoscope roof, with more than fifty different shades of colors representing the fruits and vegetables sold within. The mosaics recall the Modernista style of architecture Gaudi made famous across the city.
The market sells every type of quality produce and meat imaginable, including fresh pastries and breads. It's a great place to pick up or simply view the colorful fruit, vegetable and flower stands, along with local meats and fish. Once you're done browsing the stalls, check out the remains of the 15th century Espai Santa Caterina, the Gothic church the market was built on top of.
Practical Info
The Santa Caterina Market can be found in Barcelona's La Ribera district, not far from the Picasso Museum. It is open daily from 7:30 am to 2 pm, with extended evening hours on Thursday and Friday. The closest metro stop is Jaume I.