Bib Rambla Square (Plaza Bib Rambla)
TIME : 2016/2/22 14:07:34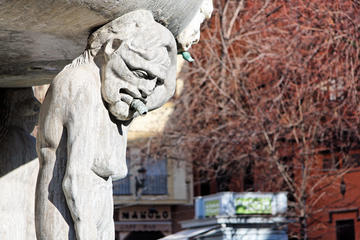 Bib Rambla Square (Plaza Bib Rambla)
Also known as the Plaza de las Flores (Square of Flowers), the pedestrianized Bib Rambla is an elegant and ancient square at the epicenter of Granada's bustling and late-night street scene Central to the plaza is a 17th-century marble fountain featuring Neptune supported by four giants, and to the northeast, the bell tower of Granada's imposing Spanish Renaissance cathedral peers over townhouse façades decorated with wrought-iron balconies and arcaded doorways.
The piazza was used for bullfights in Moorish times, and a labyrinthine silk souk grew up in Alcaicería just to the east, of which only a few remnants now remain among the souvenir stores. But following the Christian re-conquest of Granada by King Ferdinand V and Queen Isabella I in 1492, it became the center of purges of Islamic literature as well as autos-de-féenforcing Muslims to convert to Christianity. Over time, peace prevailed in Andalusia and Bib Rambla morphed into the heart of commercial Granada; customs houses were built on the square to monitor the spice and textile trades, while produce markets were established in neighboring streets.
Today the square overflows with weekend craft markets, flower stalls, buskers and cafés serving creamy horchata de chufas (southern Spain's delicious almond-and-vanilla drink), little nips of inky black espresso by day, dishes of tapas in the early evening and Andalusian delicacies by night.
Practical Info
Plaza Bib-Rambla lies in the pedestrianized center of Granada. In summer, it is party central, buzzing until 2 a.m. There is a car park at Parking Escolapios on Rey Católico.
You Might Also Like