Bilbaos White Bridge
TIME : 2016/2/22 14:07:35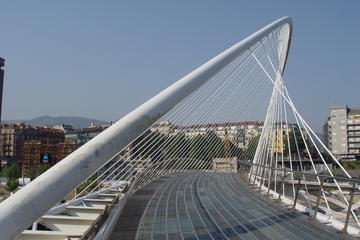 Bilbao's White Bridge
Just south of the Guggenheim Museum resides Bilbao's White Bridge, yet another inventive structure in this city so known for pushing the artistic envelope. Also called Campo Volantin Bridge or Calatrava Bridge, the unmistakable Bilbao silhouette is more often referred to as Zubizuri Bridge, which means "white bridge" in Basque.
The Zubizuri Bridge was designed by Santiago Calatrava, who also claims the Bilbao airport as another of his works. The tied arch footbridge is made of an intriguing curved walkway suspended by steel cables. Since its opening in 1997, it has become a beloved part of the Bilbao skyline, for the most part anyway: its deck, which is made of translucent glass bricks, turns into a slippery hazard on the city's often rainy days. As such, for safety reasons the bridge walkway has now been covered in black mats (much to the dismay of the original artist).
The Zubizuri spans the Nervión River, linking the northeast area of the city with the Guggenheim Museum. Conversely, for those visiting the museum, it serves as an easy shortcut to the Artxanda Funicular entrance, located just a few blocks away from the bridge and toward the hills (in Funicular Plaza).
Practical Info
You will find the White Bridge just about a ten-minute walk south along the river from the Guggenheim Museum. Take advantage of the Zubizuri's proximity to the Artxanda Funicular to scale the 200-plus meters to the top of Mount Artxanda, where you can spy views of the city and countryside beyond.
You Might Also Like