Corralejo Dunes Natural Park
TIME : 2-22 14:08:11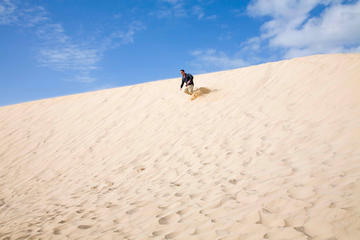 Corralejo Dunes Natural Park
The Canary Islands sit just 70 miles off the coast of western Africa, but the setting of Fuerteventura's Corralejo Dunes National Park might have you thinking you're a lot closer. Indeed, this beachside nature reserve covers almost 3,000 hectares of sandy dune-filled landscape, and will give you the sensation that you're visiting the Canaries' continental neighbor as opposed to a beachy archipelago.
Though the undulating white sands are surely reminiscent of the desert, the granules in Corralejo Dunes Natural Park are in fact actually made up of tiny little pieces of shells and mollusks as opposed to anything rocky. And it's not all just about the dunes in these parts, either, as these mountains of sand give way to the bright blue ocean, and plenty of opportunities for enjoying the sun and sea. Even better? Don't expect to see the built-up shorelines that you might find at other popular Fuerteventura beach destinations.
Practical Info
Corralejo Dunes Natural Park sits about a 30-minute walk south of the resort town of the same name (Corralejo). Beware: lifeguards do not keep watch on these beaches, so enter the current-filled waters at your own risk. Also note that there are nudist areas along these shores (and along many Spanish shores), so don't be surprised to see people happily soaking up the sun, bathing-suit-free.