Geomining Museum (Museo Geominero)
TIME : 2016/2/22 14:08:42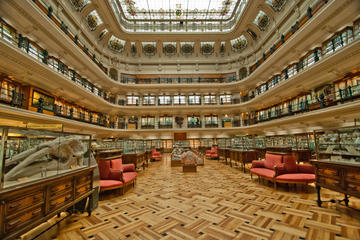 Geomining Museum (Museo Geominero)
This museum has nearly 10,000 rare fossils, minerals, corals and rocks on display. First commissioned by Queen Isabella in the 19th century, today it is run by the Spanish Institute of Geology and Mining as a public research facility. The museum features the mining history and geological heritage of Spain. Important figures in geology and paleontology contributed many of the exhibited items.
Museum curators organized the various materials into six collections, which include foreign fossils, mineral resources, minerals from the autonomous regions, Spanish flora and fossil invertebrates, systematic minerals, and fossil vertebrates. Samples come from both Spain and from around the world. Though English is available in some areas, many of the educational signage and exhibits are only in Spanish. The collection is housed in many large cases, and the beautiful interior of the museum is worth a visit alone.
Practical Info
The Museo Geominero is located in the Institute of Geology and Mining at Calle Ríos Rosas 23. The closest Metro stop is Rios Rosas. It is open daily from 9 am to 2 pm. Admission is free.
You Might Also Like