Kaymakli Underground City
TIME : 2016/2/22 16:38:03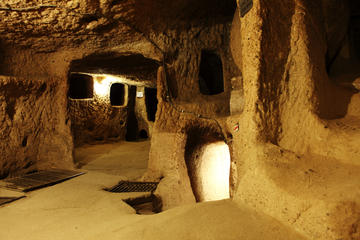 Kaymakli Underground City
Kaymaklı is a city dug deep into the soft volcanic rock in the Cappadocia region. There are around 100 underground cities in the area although only a few are open to the public. Kaymaklı is the largest of them. It is estimated that around 3,500 people once lived here.
Built under a hill known as the Citadel of Kaymaklı, the city consists of 8 underground levels made up of low, narrow, sloping passageways. The city is arranged around the ventilation shafts which bring in air. Early inhabitants chose to live some of the time underground as protection against the heat and the marauding tribes who regularly passed through the region looking to attack and plunder.
The city was opened to visitors in 1964 although only 4 of the 8 levels are accessible. The first level was meant for stables, the second level had a church and some living areas, the third level was kitchens and storage. Current inhabitants of Kaymaklı still use parts of the undergound city for storage, stables and cellars.
You Might Also Like