Taksim Square
TIME : 2016/2/22 16:38:17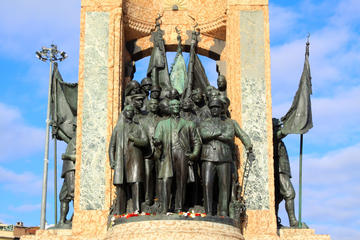 Taksim Square
Located on the European side of Istanbul, Taksim Square is the heart of the modern part of the city. It takes its name from the stone reservoir on the west side of the square, which today houses the Taksim Republic Art Gallery. Sultan Mahmud I originally established the square as the point where water lines from north of Istanbul converged before branching off to other parts of the city.
Today, Taksim Square buzzes with activity day and night. With Istiklal Caddesi, the city's main pedestrian thoroughfare, ending in the square, it is surrounded by shops, restaurants and high end hotels, making it a popular gathering spot for locals and tourists alike. Over the years, it has also been home to numerous public celebrations, parades and demonstrations.
In the center of the square, you'll find the Monument of the Republic, constructed in 1928 to commemorate the fifth anniversary of the founding of the Republic of Turkey after the Turkish War of Independence. Also located on the square is the Ataturk Cultural Center, a multi-purpose cultural center and opera house that is home to the Istanbul State Symphony Orchestra, the Istanbul State Modern Folk Music Ensemble and the Istanbul State Classical Turkish Music Choir.
Practical Information
Taksim Square is Istanbul's the main transportation hub and thus, easy to reach by public transport.  If you are traveling by metro, simply get off at the Taksim Square metro station. Those coming by tram can get off at Karakoy, take the Tunel funicular up to the start of Istiklal Cadddesi and then follow Istiklal all the way to the square. Alternatively, you can take the tram to Kalabatas and then ride the funicular there up the hill to the Taksim Square metro station.
You Might Also Like