Jerash
TIME : 2016/2/22 11:53:18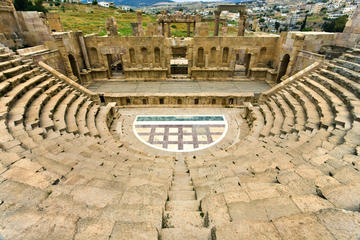 Jerash
In ancient times, the Roman town of Gerasa grew rich from iron ore as well as agricultural products which flourished in this comparatively lush temperate region. This wealth in turn endowed the town with architectural treasures: the unique oval Forum, Hippodrome, Amphitheater, Agora, and the proud columns of the Temple to Artemis. The majestic Hadrian's Arch dates from the eponymous Roman Emperor's visit, an event which signaled the town's importance.
Not long after the spread of Islam into the area, Gerasa was devastated by an earthquake and for centuries lay buried in sand. This accounts for the remarkable state of preservation in this, one of Jordan's most important Roman sites. Significant sections of all the above-named sites can still be seen next to the modern town of Jerash, as well as colonnaded streets and city walls which precisely delineate the town's contours, giving a vivid sense of life in an ancient Roman town.
Practical Info
The remains of Gerasa are adjacent to the modern town of Jerash, 30 miles (48 kilometers) north of Amman and accessible by bus or taxi.
You Might Also Like