Mount Nebo
TIME : 2016/2/22 11:53:24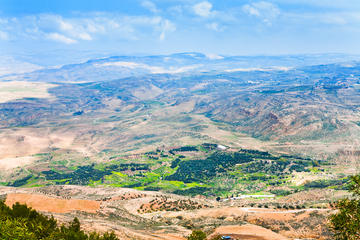 Mount Nebo
Mount Nebo is 817 meters (2,680 feet) above sea level, and thus more than 1km (0.6 mi) above the neighboring Dead Sea. It is a site holy to both Christians and Jews: Moses is said to have died on or near the mountain some time after God had showed him the Holy Land from its summit. 
You can still enjoy the prophet's view today – gaze out over the sea lying under a saline haze, the ancient city of Jericho and, if you're lucky, all the way to Jerusalem and Bethlehem. On Siyagha (one of the mountain's twin peaks), you can see the remains of mosaics from a Byzantine monastery.
Practical Info
Mount Nebo is near both the Dead Sea and Madaba, and can be included on a day trip from Amman to either or both of those places. The nearby village of Khirbet al-Mukhayyat (Nebo in the Bible) contains more mosaic treasures.  
You Might Also Like