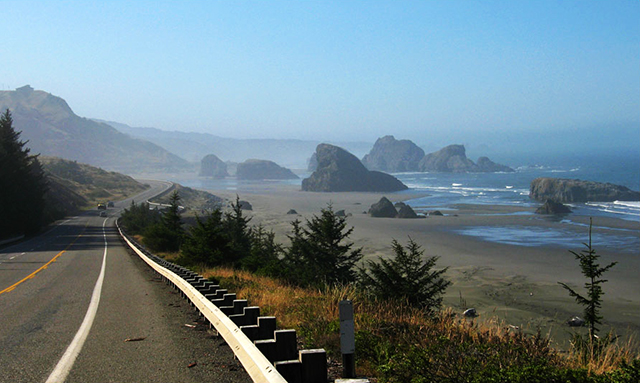 In the wake of the oil shocks of the 1970s, the Oregon legislature allocated 1 percent of the state highway's budget to encourage energy-saving bicycling by developing bike lanes and special parks and campgrounds with bicycle and foot access specifically in mind. Because the prevailing winds in summer are from the northwest, most people cycle south on U.S. 101 to take advantage of a steady tailwind.Although not for everybody, biking part or all of the Oregon coast is the surest way to get on intimate terms with this spectacular region. Before going, get a free copy of the extremely useful
The Oregon Coast Bike Route map
from the Department of Transportation (1158 Chemeketa St. NE, Salem, OR, 97310) or from coastal information centers and chambers of commerce. This brochure features strip maps of the route, noting services from Astoria to the California border. With information on campsites, hostels, bike-repair facilities, elevation changes, temperatures, and wind speed, this pamphlet does everything but map the ruts in the road. Because the prevailing winds in summer are from the northwest, most people cycle south on U.S. 101 to take advantage of a steady tailwind. You'll also be riding on the ocean side of the road with better views, easier access to turnouts, and generally wider bike lanes and shoulders. The entire 370-mile (or 380 miles, including the optional
Three Capes Scenic Loop
) trip involves nearly 16,000 feet of elevation change. Most cyclists cover the distance in 6-8 days, pedaling an average of 50-65 miles daily.
If you want to cycle the full length of the coast, fly into Portland and ride to Astoria. (Unpack your bike and take it on the MAX train if you don't want to ride from the airport into town.) It's a little harder to figure out how to end your trip, as public transportation is rather limited on the southern Oregon coast. Consider riding about 25 miles into California, where you'll find Greyhound service in Crescent City.
On Oregon's roads and highways, bicyclists have the right of way, which means that cars and trucks are not supposed to run you off the road. Most drivers will give you a wide berth and slow down if necessary in tight spots, but remember that there are also motorists whose concepts of etiquette vis-à-vis cyclists were formulated elsewhere. Play it safe: Always wear a helmet and bright or reflective clothing, keep as close to the shoulder of the road as you safely can, and use a light if you must ride at night.
Cycle Tours
Several companies offer preplanned group bicycle trips, with everything from the bicycle to the meals and lodging included. Bicycle Adventures (206/786-0989 or 800/443-6060, $2,745 for a six-day trip with hotel accommodations). The Adventure Cycling Association (800/755-2453, $1,150) runs a week-long tour starting in Eugene and cutting over through Corvallis to Lincoln City, traveling down the coast to Florence, and then riding back to Eugene; accommodations are in campgrounds, but the tour is fully supported, with gear hauled in a van.
---