Young travelers find many opportunities for entertainment and recreation in the Hudson River Valley, from hiking and swimming to apple and berry picking to tours of historic homes and museums. In particular, Stone Barns Center for Food and Agriculture (Mon.-Fri., free, Sat.-Sun., $20 ages 16+, $10 ages 2-15; 630 Bedford Rd., Pocantico Hills, 914/366-9600), a farm in Westchester County, offers a plethora of activities all through the year.
On a Saturday or Sunday visit to Stone Barns, you can participate in any or even all of the day's planned seasonal, hands-on activities and drop-in tours with the price of your one-day admission ticket. A weekend day on the farm might look like this:
Farm Chore: Egg Collecting 10:30 am – 12:00 pm
Meet the Expert: Blue Hill Chefs 11:00 – 11:30 am
Farm Chore: Pepper Harvest 11:00 am – 12:00 pm
Getting Grounded Tour (for adults) 11:00 am (45 minutes)
Hands-on Activity: Flower Printing 12:45 – 1:45 pm
Meet the: Piglets on Pasture 1:00 – 2:00 pm
Making the Rounds Tour: Greenhouse 1:30 pm (20 minutes)
Listen: Story Time (recommended for ages 2-6) 2:00 – 2:20 pm
Farm Activity: Tomato Tasting and Evaluation 2:00 – 3:00 pm
Hands-on Activity: Cilantro Pesto 2:30 – 3:30 pm
Meet the: Chicks in the Brooder Barn 2:30 – 3:30 pm
Getting Grounded Tour (for adults) 3:15 pm (45 minutes)
Farm Chore 3:45 pm – 4:15 pm
Making the Rounds Tour: Greenhouse 4:15 pm (20 minutes)
If you're planning on a weekend visit, it's a good idea to purchase your tickets ahead of time, as they frequently sell out. Tickets are available on the website up to six weeks prior to your visit. If you visit during a weekday, admission is free and you can take part in free tours, but there are no scheduled activities.
On top of all that, Stone Barns also offers annual and seasonal festivities, such as a fall Harvest Fest (happening in 2015 on October 3rd, from 3pm to 5pm) which includes hands-on farming and food activities like on a usual weekend, plus live music, a farmer's market with seasonal fare, hayrides and more. Check their website for upcoming events.
For more great family-friendly destinations in the Hudson Valley, check out:
Children's Museum of Science and Technology, Troy: In Rensselaer County, view the 75-foot-long Living Indoor Hudson River exhibit, which models the river from the Adirondacks to the Atlantic. (250 Jordan Rd., Troy, 518/235-2120, 10am-5pm Mon.-Sat., $5)
Museum Village at Old Smith's Clove, Monroe: In Orange County, you can experience life in the 19th century; learn to make a candle, and tour the blacksmith, printing, and pottery shops. (1010 New York 17M, Monroe, 845/782-8248, 11am-4pm Sat.-Sun., adults $10, seniors $8, children 4-12 $8, under 4 free)
New Windsor Cantonment State Historic Site, Valatie: Columbia County offers the opportunity to imagine what it was like to be a soldier in the Revolutionary War as you walk the grounds where George Washington's troops spent their final winter and spring. (374 Temple Hill Rd., New Windsor, 845/561-1765, 10am-5pm Wed.-Sat., 1pm-5pm Sun.)
Old Chatham Sheepherding Company, Chatham: Also in Columbia County is a chance to stop by and help feed the sheep at 3pm daily. (155 Shaker Museum Rd., Old Chatham, 518/794-7733)
Zoom Flume, East Durham: Cool off in the pools and slides of the area's biggest water park. (Shady Glen Rd. off Rte. 145, East Durham, 800/888-3586, 10am-6pm June-Sept., some weekends until 7pm, adults $27.99, kids 7 and under $20.99, infants 2 and under free)
Taconic Outdoor Education Center, Cold Spring: Located inside Clarence Fahnestock Memorial State Park in Putnam County, the center offers a variety of summer and winter programs for kids as well as adults. (75 Mountain Laurel Ln., Cold Spring, 845/265-3773)
Mid-Hudson Children's Museum, Poughkeepsie: Set on the banks of the Hudson in downtown Poughkeepsie in Dutchess County, the museum has a mastodon skeleton, solar and wind energy exhibits, and a horizontal rock climbing wall. (75 N. Water St., Poughkeepsie, 845/471-0589, 9:30am-5pm Mon.-Sat., 11am-5pm Sun., $8)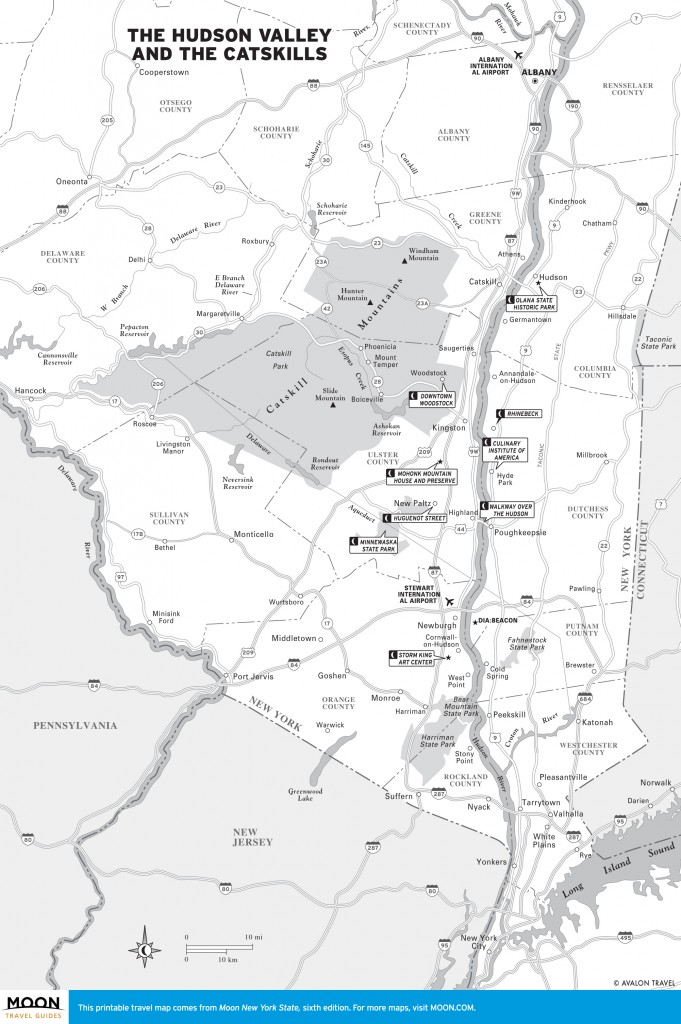 ---
Partially excerpted from the Fourth Edition of Moon Hudson Valley & the Catskills.