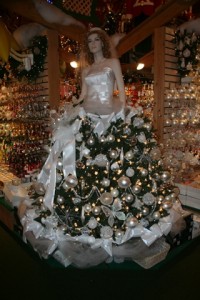 Before I'd ever stepped foot in
Frankenmuth
, a Bavarian-style village in the Thumb region of Michigan, I'd heard about
Bronner's CHRISTmas Wonderland
(25 Christmas Ln., 989/652-9931, 9 a.m.-9 p.m. Mon.-Sat., noon-7 p.m. Sun. June-Dec., 9 a.m.-5:30 p.m. Mon.-Thurs. and Sat., 9 a.m.-9 p.m. Fri., noon-5:30 p.m. Sun. Jan.-May), billed as the world's largest Christmas store. As a New Orleans native, I'm familiar with holiday extravaganzas – the Big Easy is after all home to Blaine Kern's Mardi Gras World, a large shrine to floats of the past, present, and future. But, despite my own holiday experiences, I was still woefully unprepared for my first tour of Bronner's.
Founded in 1945 by Wally Bronner, the store began as a small business, dedicated to celebrating "the joy of Christ's birth" all year long. Today, Bronner's is enormous – nearly the size of six football fields (a third of which is available for the shopping public) – and featuring over 50,000 holiday decorations and gifts – from lights and personalized ornaments to Nativity scenes and artificial trees. Open 361 days of the year, Bronner's only closes its doors on four major holidays: New Year's Day, Easter Sunday, Thanksgiving, and Christmas.
Despite the incredible wealth of information on the Bronner's website, this is truly one place you have to see to believe. My husband and I spent several hours there on our initial visit, and though it was late June when we first saw this amazing store (and neither of us are particularly religious), the endless rows of paraphernalia couldn't help but instill us with the holiday spirit.
Some Michiganders might claim that all this holiday excess is a bit over-the-top, but I, for one, found it utterly fascinating. The oversized snowmen, categorized ornaments, miniature villages, and decorated Christmas trees (which range in religious, traditional, toy-land, and whimsical themes) especially delighted me, but there was so much more than that – everything from stockings, Santa suits, garlands, and wreaths to nutcrackers, candles, angels, and music boxes. In fact, even though it was summertime, we left with a few Christmas presents in tow – some hilarious fishing-inspired ornaments for my father, the ever-hopeful fisherman.
Apparently, Dan and I aren't the only ones who appreciate this cornucopia of holiday delights. Over 2 million visitors – including plenty of children and hordes of travel writers (like the one-of-a-kind Midwest Guest) – visit this winter wonderland every year. Many even come from overseas, which is no surprise, given Bronner's international theme: "Welcome" signs greet visitors in more than 60 languages, and "Merry Christmas" ornaments are available in even more. This impressive complex is truly an attraction for all ages – a magical world of sparkling lights, animated figures, and ever-present Christmas music. Some people even come for Bronner's annual events, which typically include artist demonstrations, prize drawings, and videos about figurine production. Santa Claus and the Easter Bunny also make annual appearances here.
Situated on 27 acres of well-landscaped grounds east of I-75, Bronner's features outdoor treats as well, from adorned lampposts to life-sized Nativity scenes. And then, of course, there's the Silent Night Memorial Chapel, a replica of the one in Oberndorf/Salzburg, Austria – which was built on the site of St. Nicholas Church, where "Silent Night" was first sung on Christmas Eve in 1818. Erected in 1992 as a tribute to God and one of the world's favorite Christmas hymns, the chapel is open daily for meditation and visitation.
In an effort to accommodate all visitors, Bronner's offers free use of strollers and wheelchairs. Snacks are also available on-site – in case you stay longer than anticipated – and there are plenty of free parking spaces for buses, RVs, and other vehicles. Besides shopping, you might also enjoy the store's free video presentations – "World of Bronner's," "Silent Night Holy Night and the Silent Night Memorial Chapel," and "A Decorative Life: the Wally Bronner Story" – all of which are shown daily.
As I previously expressed in my author Q&A about Moon Michigan, Frankenmuth – lovingly known as Michigan's Little Bavaria – is "a sweet spot to spend the holiday season." With the presence of Bronner's – one of the state's top attractions – it's not difficult to see why. But if you want to avoid the holiday crowds, you should consider visiting off-season, as I first did.
In general, Frankenmuth is a family-friendly destination, and with a year-round, full-service campground, it's especially ideal for RV camping. Besides a range of standard and deluxe campsites, Frankenmuth Jellystone Park (1339 Weiss St., 989/652-6668, $37-77) even offers an indoor pool from March to December and cabins from April to September.
For more information about Frankenmuth and other popular attractions of the Great Lakes State, consult the latest edition of Moon Michigan. Tourism offices like the Frankenmuth Chamber of Commerce and Convention & Visitors Bureau (635 S. Main St., 800/386-8696, hours vary seasonally) are a helpful resource, too.