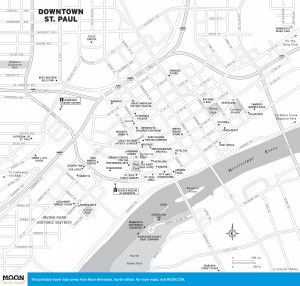 There is no truth to the rumor that St. Paul has no nightlife, though this is one case where the capital envies Minneapolis. Here are some top spots to catch live music or simply while away the hours with a drink in hand.
Live Music
A fancy country-and-western bar that opened at the end of World War II, the Turf Club (1601 University Ave., 651/647-0486) took a chance and made a change to a rock format, letting up-and-coming bands play. The switch paid off, and now even touring acts play on occasion.
As popular as it has become, the Minnesota Music Café (499 Payne Ave., 651/776-4699) still seems to be one of the Twin Cities' best-kept secrets. Great bands—usually blues or R&B—play seven nights a week, and a large sunken dance floor ensures good viewing by all. The club's walls serve as a Minnesota music hall of fame.
Have a craic with the best Irish bands and open jams at The Liffey (175 W. 7th St., 651/556- 1420), Dubliner Pub (2162 University Ave. W., 651/646-5551), and Half Time Rec (1013 Front Ave., 651/488-8245). The classic main bar of the latter served as Slippery's in the movie Grumpy Old Men, and there's a bocce ball court in the basement. The original Dunn Bros Coffee (1569 Grand Ave., 651/698-0618), a relaxing space by Macalester College, has musicians nightly.
Dancing
Wild Onion (788 Grand Ave., 651/291-2525) is a casual bar and grill by day with a live DJ and small dance floor every night.
Crowds kick up their heels to the live big bands on Thursday (and occasionally Friday) "Swing Nights" at the Wabasha Street Caves (215 Wabasha St. S., 651/224-1191). The bands play 7pm- 10pm, but if you are a neophyte, come at 6:15pm for a dance lesson.
Bars and Taverns
O'Gara's (164 Snelling Ave. N., 651/644-3333), a St. Paul institution, comes pretty close to being all things to all people. It's a neighborhood bar and grill with better-than-average pub grub and half a dozen of their own microbrewed beers, plus they host a variety of live bands in the adjoining wings. A young Charles Schulz lived upstairs.
Great Waters Brewing Co. (426 St. Peter St., 651/224-2739, 11am-2am daily) gets its name and its water from a spring-fed well right beneath the building. Nine taps carry house brews, including four cask-conditioned ales. While Great Waters is a favorite of many St. Paulites, it's the kind of place where you go to enjoy the beer, not the food or the atmosphere.
The longest-running gay bar is the Town House (1415 University Ave. W., 651/646-7087), which, though it hosts karaoke, a piano bar, and a Thursday drag show, attracts a pretty mellow crowd.
Take some of the Cities' best fries, little sandwiches (broodjes,) fried potato balls (bitterballen,) and plenty of other salty, crispy things. Add in two dozen draft beers (many Dutch and Belgian) and live music nearly every night, and that's Amsterdam Bar and Hall (6 6th St. W., 612/285-3112, 11am-2am daily).
The Happy Gnome (498 Selby Ave., 651/287-2018, 10am-midnight Sun., 11am-1am Mon.-Thurs., 11am-2am Fri.-Sat.) offers 44 beers on tap and more than 180 bottles, along with a first-rate selection of scotch and great food (try the bison burger).
The bar at the Muddy Pig (162 Dale St. N., 651/254-1030, 11:30am- 1am Mon.-Thurs. and Sun., 11:30am-2am Fri.-Sat.) is something to see, with more than 50 taps lined up. To go with it, there's an international menu with everything from around the world that goes with beer, from smoked salmon to Cuban sandwiches. Their sister establishment, Pig and Fiddle (3812 50th St. W., Minneapolis, 952/955-8385, 4pm-1am daily), serves elevated peasant food (think high-end pierogies) with an equally long beer list.
Feel like an old-time fat cat as you settle into the high-backed stools at the St. Paul Grill (350 Market St., 651/224-7455, lunch 11am-2pm Mon.-Sat., 10:30am- 2pm Sun., dinner 5:30pm-10pm Mon.-Thurs., 5:30pm-11pm Fri., 5pm-11pm Sat., 5pm-10pm Sun.). Order a decades-old single malt, and strike up a conversation with the guy in the suit next to you. He might be a state senator. A classic shrimp cocktail or a bowl of lobster dip rounds out the whole living-large experience.
---
Excerpted from the Fourth Edition of Moon Minnesota.