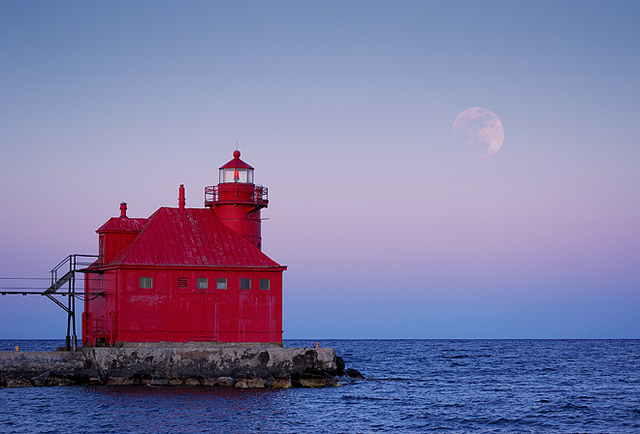 The anadromous leviathans for which Door County's gateway community is named once crowded the harbor waters in such plenitude that ships would literally run aground on heaps of them.
Whether or not Sturgeon Bay is the heart and soul of the county is debated, but it lies at a most strategic location: It was used for aeons by Native Americans as a portage point. When the 6,600-foot-long canal was blasted, chiseled, hacked, and dug through to link the bay with Lake Michigan in the 19th century, the town of Sturgeon Bay was set. Besides the shipbuilding, most of the county's cherries are processed here.
The genuine graciousness of the people is palpable. Sturgeon Bay was voted Wisconsin's Friendliest Small Town by those who really know—the readers of Wisconsin Trails magazine.
Blooming Season
Flowers show up in mid-May, and you're likely to be jostled by camera-toting visitors during blooming season. Cherry trees are lovely enough, but much of the county's cutover land and agricultural pasture have been left to regrow wild. The county contains five state parks and the Ridges National Natural Landmark, a wildflower preserve with 13 species of endangered plants. Door County is also making an effort to become one of the daffodil capitals of the world, planting more than 100,000 bulbs annually. Look for the white- and peach-colored daffodil—called "doorfodil" (seriously)—that was developed locally.
Generally, blooms are peeking out by the second or third week of May. The bay side blooms first; the lake side follows a week to 10 days later. As soon as the blossoms are out, it's time for the Festival of Blossoms, a monthlong shindig of blossom field trips, midway rides, pageants, fish boils, shipyard tours (your only chance to see the operations up close), lighthouse tours, parades, and special cherry-centric celebrations.
Information
The Sturgeon Bay Visitors Center (36 S. 3rd Ave., 800/301-6695) is downtown. The Door County Visitors Bureau (1015 Green Bay Rd., 920/743-4456 or 800/527-3529), just south of town, has all the information you're likely to need. It has a 24-hour touch-screen information and reservations service. Otherwise, you'll find boatloads of local newspapers and other media.
DoorCounty-WI.com is a good website with links to other businesses and local media. Door County Navigator is a sounding board for locals as well as travelers who've tried local attractions, lodgings, and dining; it even has "dog-friendly lodging" listings.
Getting to Sturgeon Bay
Wait till you see the auto traffic on a peak weekend: Door County shares the American antipathy toward public transportation. The hoi polloi disembarking from a Greyhound bus evidently doesn't fit into the Cape Cod sunset postcard scene. There are no buses, no trains, and no ferries from points south. Entrepreneurs are constantly floating proposals to run a passenger- only ferry from here to Menominee in Michigan's Upper Peninsula or other towns, but don't count on it.
Very small and limited air shuttles from Chicago to Sturgeon Bay have occasionally popped up, but none are operating at present. The only option to fly in is Green Bay's Austin Straubel International Airport (GRB, Hwy. 172, Green Bay, 920/498-4800) and rent a car or take the Door County-Green Bay Shuttle (920/746-0500, reservations required), which does have a cool retro checker taxi.
---
Excerpted from the First Edition of Moon Wisconsin's Door County.