While Glacier adventures can fill a lifetime, you can taste the best of its wild side in a week. Camp throughout the park to carry your adventure from the sun waking you up to sunset with roasting marshmallows on a fire and even beyond with dark skies affording a star-filled night. If camping isn't your thing, you can also enjoy this week of outdoor fun by staying in motels or park lodges.
Day 1
Launch your week of adventures early by selecting a campsite in Two Medicine. Settle in, then put on the hiking boots to hike 5.2 miles to Cobalt Lake. You'll cross a swinging bridge and see Rockwell Falls en route. Those who want a shorter hike can turn around at the falls; those with extra gumption can climb past the lake to Two Medicine Pass. Spend the evening with binoculars watching bears, mountain goats, or bighorn sheep on Rising Wolf's slopes, and enjoy the quiet.
Day 2
In the morning, climb 3.1 miles to Scenic Point, an ascent seemingly to the top of the world where views encompass vast plains and countless mountains. Spot marmots and perhaps bighorn sheep. Then, drive north to St. Mary, where you made reservations for three nights. Attend the Two Medicine Singers and Dancers show at the St. Mary Visitor Center or a Native America Speaks program.
Day 3
Get an early start for Many Glacier. Hike 5.2 miles to Iceberg Lake for the novelty of seeing an ice-laden lake in August. Picnic at the lake while watching mountain goats on the surrounding cliffs. Swim with the icebergs, if you dare. After hiking, stop by the spotting scope in the Swiftcurrent parking lot to see bears.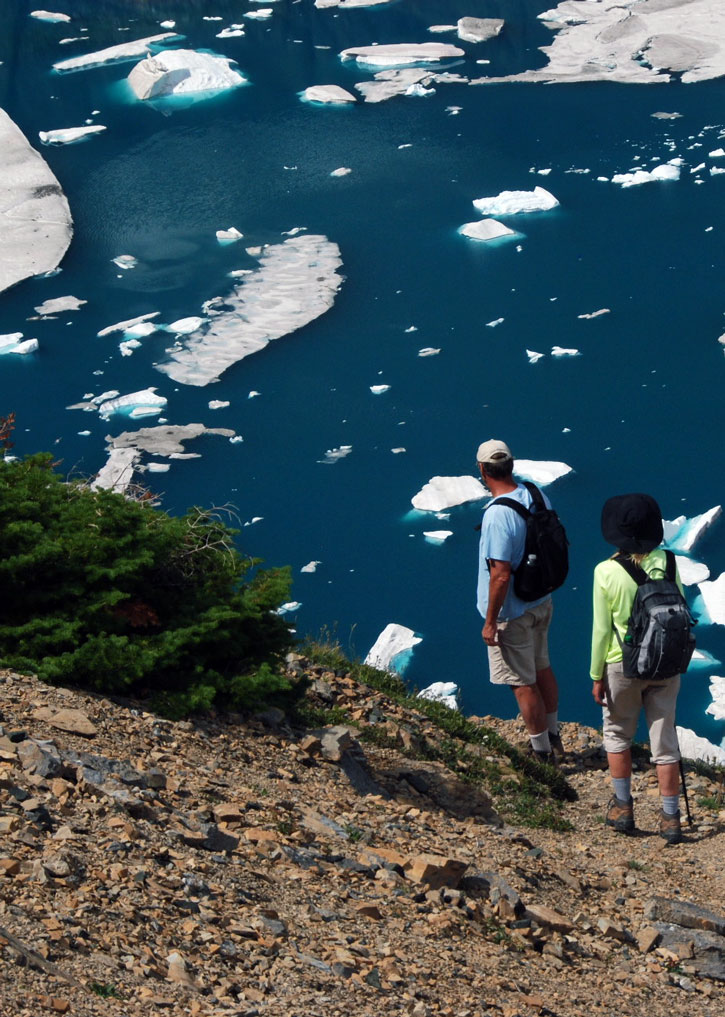 Day 4
Return to Many Glacier for a lighter day of adventure. Hop on the tour boat across Swiftcurrent Lake and Lake Josephine. While you can add on a walk to Grinnell Lake or a more adventurous climb to Grinnell Glacier, those looking to relax can return to Many Glacier Hotel to rent a canoe or kayak for a leisurely paddle on Swiftcurrent Lake.
Day 5
Drive early up Going-to-the-Sun Road to Logan Pass. Opt for a shorter hike up to Hidden Lake Overlook or an all-day trek with a shuttle on the Highline Trail to The Loop. Keep your eyes open for marmots, pikas, ptarmigan, bighorn sheep, and bears, even though the views will threaten to steal all your attention. Continue west to Lake McDonald, where you have reservations for three nights.
Day 6
Saddle up for an all-day trail ride from Lake McDonald Lodge to Sperry Chalet or a shorter forest tour on horseback. When you return to camp, a dip in the lake will wash the dust off.
Day 7
Top off your week with rafting. A full-day trip with any of the raft companies in West Glacier will start off with a relaxing float on the Middle Fork of the Flathead River before hitting the white water as a photographer captures you paddling through Bonecrusher Rapid.
---
Excerpted from the Fifth Edition of Moon Glacier National Park.